Recently refurbished Celebrity Millennium welcomes aboard more guests with the addition of newly designed staterooms and public areas. These newly designed staterooms include the eXhale bedding feature Cashmere for those luxurious sweet dreams and modernized bathrooms. Our public spaces will make your holiday complete.
Fulfill all your senses in the newly redesigned Spa followed by a nice coffee at the Oceanview Café or some drinks at the Rendezvous Lounge or even better at the Sunset Bar for those breathtaking views. Retail therapy is available on board as well. To end the evening in style dinner in the Main Dining Room shall exceed your culinary expectations. The Celebrity Revolution welcomes you aboard for a complete journey of emotions.



Dining
The best dining experience at sea - period.
Different dining options are available to suit different taste-buds. One can choose from the Main Dining Room for an exceptional culinary service. The Grill for a tasty and flavourful meal. The Italian restaurant for some Mediterranean flavour with the incorporated winery. Murano for that special luxury. The Blu restaurant for those who would like an intimate atmosphere.
The Sushi on Five restaurant for an ultimate sushi experience. The Oceanview Café a buffet to suit everyone's appetite. Ultimately you can enjoy the Porch and the Pool Grill to enjoy the fresh air while eating a delicious meal. Service charge applies for speciality restaurants.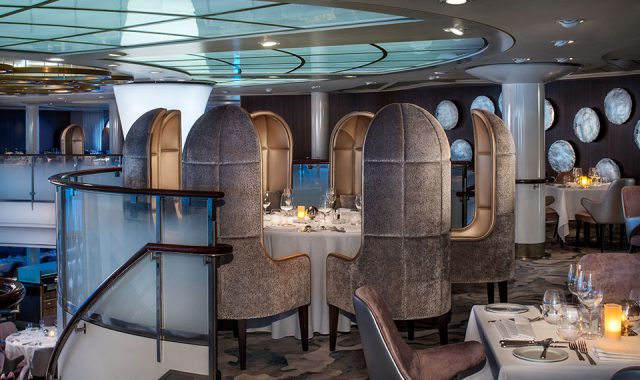 Treat yourself to delicious meals/snacks and drinks in a wonderful atmosphere while being pampered at the Spa.
New treatment rooms available for guests to enjoy their onboard experience to the full. A gym is available for all guests. Barbers and Salons are also available against a charge.
Accommodation
Open air access to the sea, whenever you wish
Choose between the different staterooms offered, mainly : inside cabins, outside cabins, verandas or higher even more luxurious categories such as the concierge class, Aquaclass or Suites. All rooms are well equipped with all necessary amenities. Sterooms do vary in size according to category.
Most of the cabins accommodate  maximum 2 persons with exception of a limited number of family cabins which take up to 4 and a  very few number of cabins which can take up to 5 persons in the room as well.